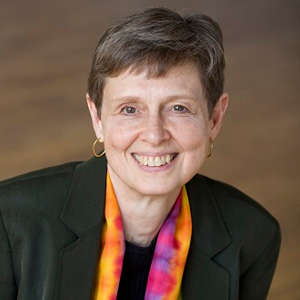 About
Ms. Barnett has been named the recipient of the AGO Distinguished Composer Award for 2022.
Carol Barnett's (b. 1949) music has been called audacious and engaging. Her varied catalog includes works for solo voice, piano, chorus, diverse chamber ensembles, orchestra, and wind ensemble.  
She was awarded the 2003 Nancy Van de Vate International Prize for Opera for her chamber opera, Snow, and her music theater work Meeting at Seneca Falls was featured at the 2006 Diversity Festival in Red Wing, MN. The World Beloved: A Bluegrass Mass, commissioned in 2006 by VocalEssence and written with Marisha Chamberlain, had its Carnegie Hall debut in February 2013, and has become a favorite across the country. Recent works include My People Are Rising, for Elektra Women's Choir; Longing for Home, a song cycle for Source Song Festival; and Will's Ladies, for Clara Osowski and the Metropolitan Symphony Orchestra.
Works for organ include Fantasia TON-Y-BOTEL; Praise (for organ and steel pan); and two short organ preludes on "Ich Halte Treulich Still" and "Children of the Heavenly Father."
Barnett is a charter member of the American Composers Forum and a graduate of the University of Minnesota, where she studied composition with Dominick Argento and Paul Fetler. She was composer-in-residence with the Dale Warland Singers from 1992 to 2001, and was on the adjunct faculty at Augsburg College from 2000 to 2015.
Further information is available at www.carolbarnett.net