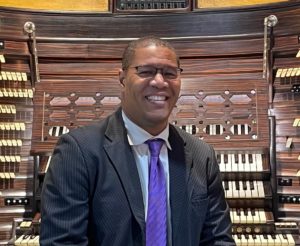 About
Tedde Gibson is a pianist and classical, Hammond, and theatre organist. He is also a composer, arranger, and silent film scorer. Born in Tacoma, WA, he began organ study at age 16 with the late AGO president Dr. Edward Hansen of the University of Puget Sound. He later studied classical organ improvisation with David Dahl, professor emeritus of Pacific Lutheran University. Tedde studied theatre organ arranging with Jonas Nordwall of Portland, OR. He was a regular organist at Tacoma Pizza and Pipes from 1995 until the restaurant's demise in 1999. Tedde was an organist at Tacoma First Assembly of God/Life Center. Upon moving to Seattle in 1996, he studied with Dr. Carol Terry and Dr. J. Melvin Butler of the University of Washington. He was then organist at First AME Church Seattle.
Tedde moved to the Washington, DC metro area in 2003 and studied pipe organ with Dr. Mickey Thomas Terry. While attending Peabody Conservatory in Baltimore, MD he studied with former AGO president Dr. John Walker.
He is organist/musician-in-residence at First Baptist Church of Highland Park in Landover, MD, and Capitol Hill Seventh-day Adventist Church in Washington, DC. He was organist at Holy Comforter-St. Cyprian Roman Catholic Church in Washington, DC before the Covid-19 pandemic.
Tedde is an active recitalist and workshop clinician, performing on theatre and church organs across the country, and has recently accompanied "Sex and the City" alum Mario Cantone in the PBS production of "Wicked in Concert", broadcast nationally.
Tedde became a director for the American Theatre Organ Society in 1997, Vice Chairman of the Board in 1998, and Chairman in 2021.