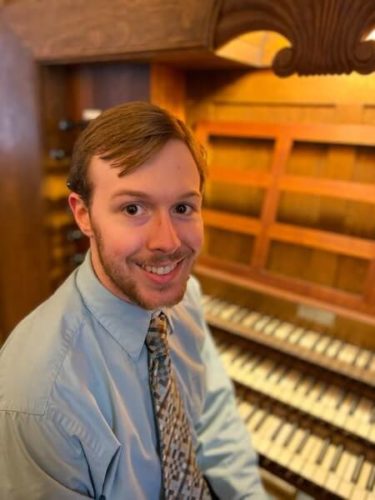 About
Dr. Evan Cogswell is organist and music director at Calvary Episcopal Church in Summit, NJ. He completed his doctorate in the Fall of 2021 at the Jacobs School of Music at Indiana University where he studied organ with Chris Young. Prior to attending IU, Evan received his Masters of Music from the Yale School of Music and Institute of Sacred Music. Evan worked as the associate organ instructor at IU for his first two years there.
While at Yale, Evan gave several lectures on the organ music of Olivier Messiaen, which developed into his thesis work. At Yale Evan also worked as an organ scholar for Marquand Chapel, gave private organ lessons to secondary students, and taught several graduate level theory classes as a music theory TA. His organ teacher at Yale was Martin Jean.
Prior to attending Yale, Evan graduated summa cum laude from the Hartt School in the spring of 2014 with a dual degree in composition and organ performance, where he studied organ with Patricia Snyder and composition with Robert Carl and Stephen Gryc. At Hartt Evan commissioned and premiered several new chamber works for the organ and other instruments.
Evan began studying the organ at age twelve with David Spicer in Wethersfield, CT, and he is eternally grateful for those early years of guidance and inspiration.
As an organist and composer, Evan has written several works for organ that he has performed on several occasions. His most recent composition is Exsultet for solo organ.