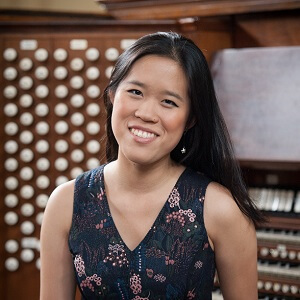 About
Janet Yieh serves as Associate Organist at Trinity Church, Wall Street in New York City where she plays weekly services, directs the St. Paul's Chapel Choir, accompanies the Grammy-nominated Trinity Choir and Trinity Youth Chorus, and works closely with the music and liturgy departments.
An innovative concert recitalist and sacred music specialist, Janet was named one of The Diapason's '20 under 30' promising artists in 2017. Her performance highlights include New York's Alice Tully Hall, Washington's National Cathedral, San Francisco's Grace Cathedral, Yale University's Woolsey Hall, Methuen Memorial Music Hall, and international concert tours in Taiwan, Hong Kong, Malaysia, and Japan. She has collaborated with the Paul Winter Consort, Washington Chorus at The Kennedy Center, NOVUS NY orchestra at Carnegie Hall, and been broadcast on Pipedreams.
A native of Alexandria, Virginia, Janet holds degrees from the Yale School of Music and Institute of Sacred Music – MMA '18, MM '17, and The Juilliard School – BM '15. While at Yale, she was appointed Organ Scholar at Christ Church, New Haven and Trinity on the Green, and Director of Music for Berkeley Divinity School. Janet's former teachers include Thomas Murray, Paul Jacobs, John Walker, Wayne Earnest, and Victoria Shields.
Janet co-founded 'Amplify Female Composers' in 2020 and contributes research to the sacred music database 'A Great Host of Composers.' She has taught at POEs, played as course organist for RSCM America, and served on the AGO OrganFest 2020 and 2021 National Steering Committees. Janet is an executive board member of the NYCAGO and member of the Association of Anglican Musicians. www.janetyieh.com.