Exploring Seattle and beyond
Visit this page for links, info, maps/directions, and more.
Convention Hotel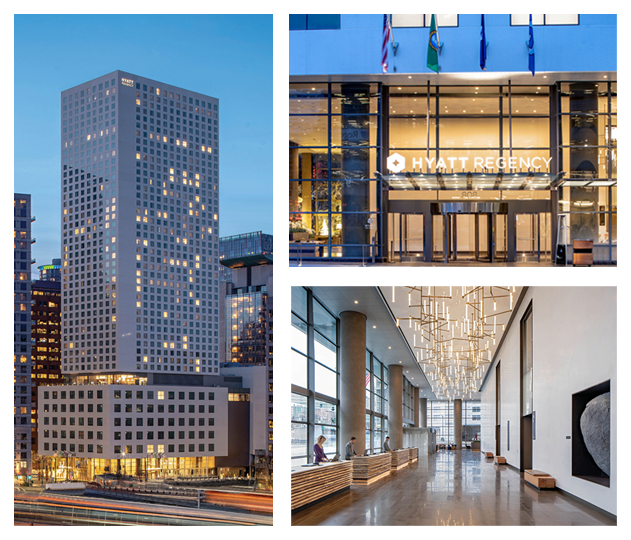 Discounted guestrooms
The convention hotel is the Hyatt Regency Seattle. Visit this page for more information, including how to book your discounted guestroom.
Convention hotel parking
Self-parking is available at the Hyatt Regency Seattle underground garage. The garage is accessed directly from designated elevators in the hotel lobby. As of this writing, the nightly rate is $40.
Arriving by Air
AGO airfare discount
Alaska Airlines, headquartered in SeaTac, Wash., is generously providing a code for discounted airfare. We are not allowed to post the discount code on a public website. Here is how to obtain the discount code:
Register for the convention. Upon completing your registration, the airfare discount code will be included on the confirmation page that is displayed. The code will also be included in a confirmation email sent to you.
Beginning with the January 2022 issue, see the ad for THE WELL-TEMPERED FUTURE in The American Organist magazine.
Watch your inbox for the monthly AGO e-Newsletter. Since late 2021 the code has been included with convention news.
Cities served by Alaska Airlines
Discount details, terms, and conditions
Local airport
Seattle-Tacoma International Airport (SEA) serves the greater Puget Sound region and ranks #8 in passenger traffic among U.S. airports. Expect a bustling scene, and allow plenty of time.
Ground transportation by car
Most conventiongoers will prefer to travel from the airport to housing via taxi, rental car, or app-based rideshare.
Travel by public transit (Link Light Rail) requires moderate walking distances totaling more than 0.5 miles (see below for more details). Taxis and rideshares (Lyft, Uber, or Wingz) are available onsite at the airport near the terminal.
The offsite rental car facility is reached by dedicated shuttle buses departing near the terminal. In moderate traffic, travel by car from the airport to the convention hotel takes about 20–25 minutes.
Ground transportation by public transit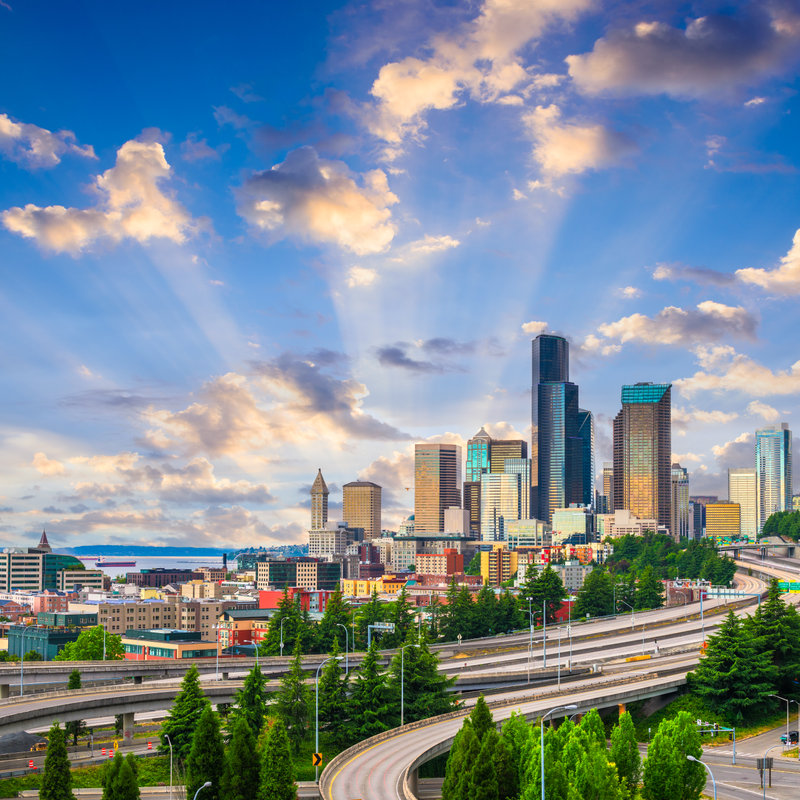 The 1 Line of SoundTransit's Link Light Rail departs from the SeaTac/Airport Station (see service map; see timetable; see Google Map with transit and walking directions to the convention hotel).
To get to the rail station, after walking inside the airport, you'll need to walk roughly 0.25 miles from the airport terminal exit via sky bridge (see this video; golf carts may sometimes be available).
You'll travel to Westlake Station, located about two blocks (0.3 miles) southwest of the Hyatt Regency Seattle. Trip duration: Roughly 8–12 minutes by foot from baggage claim to the rail station; about 36 minutes by rail to Westlake Station; about 5–8 minutes by foot to the Hyatt Regency Seattle.
Times are estimates.
Driving directions to Hyatt Regency Seattle
The airport is approximately 15 miles from the convention hotel. In moderate traffic, travel by car takes about 20–25 minutes.
See Google Maps for driving directions and travel time estimates.