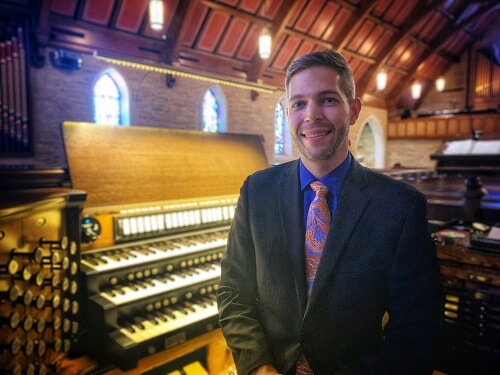 About
Adam Pajan is Lecturer in Music (organ) at the University of Oklahoma School of Music, where he teaches students in organ performance, organ technology, and church music. He received his DMA in 2014 at the University of Oklahoma following studies at Furman University and Yale University, earning the BM and MM degrees respectively under the tutelage of Charles Tompkins, Martin Jean, Thomas Murray, among others. His performing career has taken him across the United States, on five tours to Germany, England (including a performance at St. Paul's Cathedral, London), and Switzerland. Dr. Pajan has been recognized as the first prize recipient in four national competitions (Poister, Mader, Schweitzer, and Westchester) and has been heard at conventions of the American Institute of Organbuilders, Organ Historical Society, American Guild of Organists, American Liszt Society, and multiple times on American Public Media's radio program Pipedreams.
He serves as Director of Music at St. Mark the Evangelist in Norman, OK and Artist in Residence at St. John's Episcopal Church in Tulsa, OK. An active composer and arranger, his Preces and Responses Sets I and II are heard regularly at St. John's, Tulsa, and on their widely-followed live stream.
In the fall of 2022, he and Joseph Arndt will perform the twelve major organ works of César Franck in Houston, Dallas, New York, Seattle, and Tulsa. Also in 2022 he will make a sixth tour to Germany with an appearance at the Winter Oreglpunkt series at St. Sebastien Catholic Cathedral in Magdeburg.